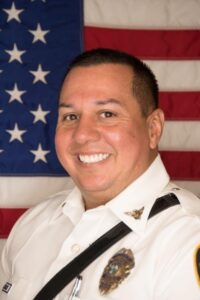 Chairman
Officer Ray DeJESUS Jr.
10/25/11 - 12/31/20
Officer De Jesus is an eighteen-year veteran of the North Miami Police Department. He is a graduate of Union Institute & University with a Bachelor's Degree in Criminal Justice. Prior to joining the North Miami Police Department, Officer De Jesus started his career as a Security Policeman in the United States Air Force. He is currently assigned to the Uniformed Support Section - Traffic Unit as the D.U.I. Coordinator and a Traffic Homicide Reconstructionist. Officer De Jesus is a certified Drug Recognition Expert (DRE) and DRE Instructor. He is also a certified Police Instructor in Police Traffic Laser & Radar, CMS Vehicle Operations, and Police Motorcycle Operations. Officer De Jesus has been serving the board since 2011.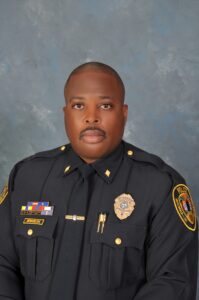 Vice Chairman
Commander Angelo Brinson
5/17/16 - 12/31/22
Commander Brinson received his Bachelor's Degree in Emergency Management from Barry University and completed the University of Louisville's Southern Police Institute 78th Command Officers Development Course (CODC). Commander Angelo Brinson currently serves as the Emergency Manager for the City of North Miami. He has worked in law enforcement for the past 24 years serving in various assignments to include Special Investigations (Narcotics), Domestic Violence, General Investigations, Special Weapons and Tactics Unit (SWAT), Honor Guard, and Uniform Patrol. He has served as a Trustee for the Police Union and currently serves as the Vice-Chairman of the North Miami #748 Police Pension Board of Trustees.
Secretary
Commander. Micheal Gaudio
1/1/19 - 12/31/20
Commander Gauido is a 21 year veteran of the North Miami Police Department. Prior to becoming an officer he served 8 years in the United States Coast Guard. Commander Gaudio has began serving  as  Trustee since January of 2019. He is new to his position as a Trustee and looks forward to serving as a board Trustee.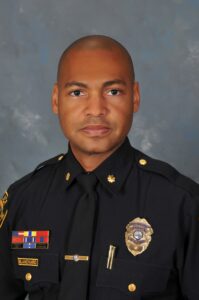 Member
Major Donald Blanchard
4/30/09 - 12/31/20
Major Donald Blanchard is the last of six children, born to parents who emigrated from Haiti to the United States. He holds a Bachelor's Degree in Criminal Justice Management from Union Institute & University. He is a Graduate of the University of Louisville, Kentucky's, prestigious Southern Police Institute (73rd SPI).
He is a 26 year veteran of law enforcement. He began his career as a Public Service Aide with Miami-Dade Police Department in 1993. In 2002, he joined the North Miami Police Department (NMPD) to serve in the city where he was raised. He worked diligently and in August of 2016, promoted to the rank of Police Major. In March of 2018, Major Blanchard was assigned to the Uniform Patrol Section where he continues to serve as the Patrol Major. He has been recognized for numerous professional awards and citations and has served on the board since 2009.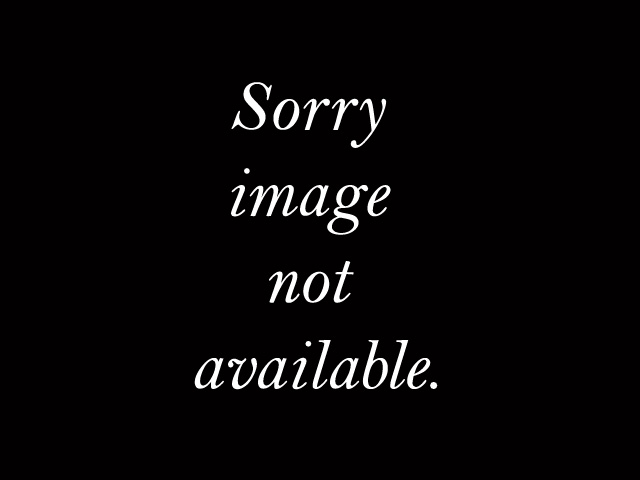 City Manager Designate
Vacant
This Position is currently vacant. Karen Muir is alternate and is serving in the capacity as the City Manager Designate.
Finanace Director
Miguel Augustin
5/17/16 -cont.
Personnel Director
Joe Roglieri
3/24/15- cont.
Joseph Roglieri, Jr., is the Personnel Director for the City of North Miami. Prior to joining the City of North Miami, Mr. Roglieri served as the Human Resources Manager for the City of Hollywood, Florida. With over 30 years in Human Resources Management, Mr. Roglieri serves as the chief negotiator for labor relations and oversee all other areas of the Personnel department for the City. He obtained a Bachelor of Arts in Political Science from the University of Florida and a Master of Science in Public Administration from Florida State University. He is a Certified Public Pension Trustee and has served as the President, Vice President, Treasurer, and Secretary for the local chapter of the International Personnel Management Association.
Sgt. Tory Holmes,  Alternate to Dejesus
5/21/19-12/31/20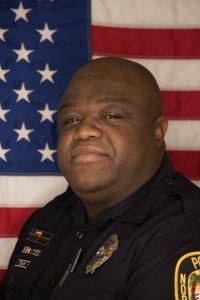 Detective Michel Tovar, Alternate to Brinson
1/1/20-12/31/22
Officer Tovar is a native of South Florida and a 19 year veteran of the North Miami Police Department.
After only four years, he was promoted to Detective and has been serving as a Homicide Detective for the past 15 years. He is also a certified CVSA Examiner and the team leader of Hostage Negotiations.
Detective Tovar is a Firearm Instructor and enjoys volunteering as an off duty officer.
Sgt. Karel Rodriguez, Alternate to Gaudio
5/21/19-12/31/21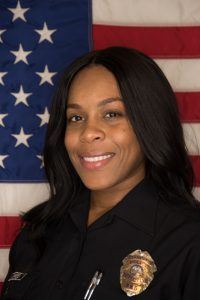 Detective LaShundra Jones, Alternate to Blanchard
1/1/16-12/31/20
Karen Muir, Alternate to City Manager Designate
10/25/10 - cont.
Karen Muir has been employed in Public Sector Risk Management for 27 years, with 17 years of dedicated service to the City of North Miami. As Risk Management Director, she is responsible for administering the City's self-insured General and Automobile Liability, Workers' Compensation and Employee Safety Program. Karen is a graduate of Florida International University and holds a Bachelor of Business Administration Degree in Finance and a Minor in International Business. She holds a Masters' Degree from St. Thomas University and an RMPE designation (Risk Management for Public Entities). Karen is currently a Board Director for Public Risk Management Association (PRIMA), South Florida Chapter.
Margaret Steele Miller, Alternate to Finance Director
5/17/16 - cont.
Paola Pierre, Alternate to Personnel Director
4/19/16 -cont.
Paola Pierre serves as the Assistant Personnel Director of the City of North Miami since December 2015. She is a human services and relationship specialist, among other responsibilities, she coordinates, develops, organizes and implements personnel programs. She is a Certified Public Pension Trustee and has been on the Board since 2016 as an alternate.
Ms. Pierre received her Master degree in Business Administration and Human Resources Management along with a graduate certificate of Accounting from the University of Phoenix, her Bachelor degree in Human Resources Management from Trinity International University, and an Associate Degree from Miami Dade College.
Total Page Visits: 554 - Today Page Visits: 1